Chinese Women| Dating in China | Singles Vacation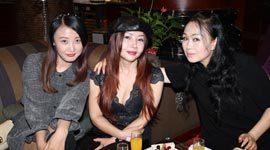 Chinese women are beautiful.
Chinese women are sophisticated.
Chinese women are educated and entrepreneurial.
Chinese women are alone.
25% of women in China between age 25 and 29 are unmarried. Chinese women who aren't married by 25 are considered to be approaching "old maid" status and are less desirable in their home country.
There are thousands of Chinese women who are wishing and praying to meet their husband on our site.
Each one of them is hoping that you are ready to try Asian dating, as you just might be the man they are looking for.
Why Chinese Women?
If you've ever seen or met a Chinese woman, this is probably not a question you have to ask. You might not, however, even be aware of some of their best features.
Family Oriented:
The family unit and maintaining it has been one of the most important parts of Chinese culture going back thousands of years. Chinese women fully embrace the idea of being a wife and a mother and are focused completely on this future. Few things could make a Chinese woman feel more fulfilled and complete than to take on these mantles and all the responsibilities that come with them. This also includes maintaining a comfortable and clean environment for her family.
To their husbands, they are loving, warm, and committed.
To their blood relatives, they are generous, kind and appreciative. Chinese women hold close relations near their heart and in high esteem.
To their children, they give their all. Aside from her marriage, there is nothing a Chinese woman will put more effort into than rearing, teaching, loving and caring for her children.
Frugal and Financially Sound:
Chinese women are typically not big spenders who are going to break the bank. They view money as a means of taking care of the family and taking care of their children. Spending extravagantly is taboo in her culture and Chinese women never want to be "Langfei" or a wasteful individual.
Your Chinese wife will always be looking to set aside money for a rainy day, to help protect the family and be ready when your children arrive. Wherever it's reasonably possible to save, she will. And your family can make money, in business or investment, she will be willing to take the opportunity. You will find similar qualities when dating in China.
Feminine:
Chinese women are happy being exactly that, women. They enjoy and appreciate their femininity. In their appearance, in how they maintain their bodies, in the way they speak, in the way they walk, Chinese women are completely feminine entities. They are content with being beautiful and love that their man loves them for it. Chinese women put a great deal of effort into their appearance to always be attractive for their mate.
They have no interest in trying to compete with or outdo their husband. Chinese women respond to a man who is comfortable being the head of the household and the leader of the family. She knows what makes her special, what distinguishes her, and doesn't find the idea of being anything less than her fully feminine self, attractive.
Forever Loyal:
The concept of "face", otherwise known as dignity, self-respect, or the ability to face other people, is one of the most important parts of Chinese culture. Despite any difficulties you may have, a Chinese woman wouldn't do anything to embarrass you in public and cause either of you to "lose face". This not only applies to not causing a scene, but it also applies to several varieties of loyalty.
She will support you in public and in private, rather than undermine you. You are her husband and her family after all, and your self-respect is tied to her own. Due also to this concept of face, even the idea of infidelity for a Chinese wife is taboo and practically unheard of. There is no greater shame she could bring upon her birth family and your family together than to be disloyal to her husband. This is especially true because she is so fortunate to have a husband when many of her peers do not.
Why Chinese Women Are Interested in You!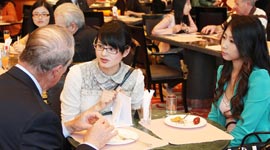 On our site, there are thousands of Chinese women who are sincerely searching for the love of their life. But why would so many charming Chinese women with so many superior qualities be interested in a foreign partner, including older foreign partners?
A Faithful Relationship:
Chinese women are exceedingly loyal by nature and cultural expectation. Disloyalty to family, especially your husband, is completely unacceptable in Chinese culture. Unfortunately, that expectation does not apply to Chinese men, whose infidelity rate has been reported as high as 60%.
Chinese women interested in having a stable, loving, committed relationship do not have an easy task finding that and maintaining that in it in their home country. Why wouldn't they seek a foreign husband who is ready to commit to them and a shared future?
"Sheng Nu":
Chinese women are mortified by the thought of being a "Sheng Nu" otherwise known as "leftover ladies" or "3S". Even the Chinese government has defined Sheng Nu as "any unmarried woman over the age of 27". These women are often looked down upon and discriminated against in Chinese society, even though 25% of women in China between age 25 and 29 are unmarried.
Chinese men simply aren't comfortable marrying a woman of equal or greater status. Moreover, they often expect complete subservience from their wives.
This has created a situation where some of the best-educated, most intelligent, most beautiful Chinese women can't find a husband in their own country. This is also another reason why Chinese women are so loyal to their husbands. He has saved her from the status of Sheng Nu.
Romancing The West:
Marriage in China is often a rather practical happening. Chinese women need to get married, and get married in their youth, or face many negative social consequences.
As a result all of all this pressure, many Chinese women greatly appreciate Western ideas of ringles. Meeting someone you genuinely like and genuinely love, rather than being pressured into settling down with the first man you meet, appeals to them. Concepts of chivalry and fidelity are also prized and largely preferred by many Chinese women.
Chinese women also idealize the compassion and concern foreign men show to their wives. Foreign partners, to them, are synonymous with a loving and caring mate.
Exotic:
While you may not look in the mirror and think of yourself as exotic, to a Chinese woman, you most certainly are. Chinese dating and courting rituals are very much by-the-book and typical.
As a foreigner, you have experiences, ideas, perspectives, and romantic inclinations that she's never encountered before. In a society where upraised nails get the hammer, you stand out and are refreshingly different.
Why China and Where Will You Go?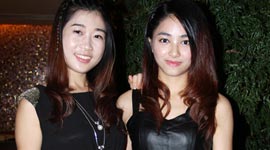 To walk into China is to walk into a civilization that boasts thousands of years of history, culture, architecture, literature, and philosophy. China's influence and contributions to the world at large cannot be overstated. From shopping, to ancient temples, to rivers, to mountains, to forests, to gleaming skylines, the most populous country on earth has anything and everything a traveler could want.
And who could want anything more than to take a singles vacation to this beautiful country and meet your beautiful wife along the way?
Currently, we offer singles tours to two of the most exciting cities in China. Each one will afford you a distinct experience and the ability to meet hundreds of Chinese women sincerely searching for their spouse.
Chongqing is a beautifully modern Chinese city that has mastered melding nature with new construction. It is also nearby one of the wonders of the modern world and one of the largest structures on the planet, The Three Gorges Dam. Chongqing is also home to The Three Natural Bridges, a series of natural limestone bridges spanning the Yangshui River. Riverboat tours are also available along the many wondrous waterways.
Chongqing's nighttime landscape is a remarkable blend of illuminated high-rises and river reflections. And the city's nightlife is certainly equally bright and exciting. The night markets and eateries offer you a whirlwind of delightful delectable but specialize in spicy Sichuan cuisine.
Shenzhen is just across the water from Hong Kong and is one of the largest manufacturing hubs in the world. It also boasts a spectacular skyline with some of the tallest buildings on Earth.
Shenzhen has come to prominence only in the past few decades and has seen a massive influx of population from the surrounding regions. As a result, the average age in this Chinese super city is around 30. Shenzhen also boasts a highly-educated population, with some 20% of China's Ph.D.'s calling the city home.
Shenzhen has been named "the most appealing city for the Chinese public", due not only to its urban landscape, but it's naturally forested surroundings, rivers, and accepting culture.
Landmarks include The Splendid China Folk Village and The Window of The World.
Why Wait?
Our Singles tours are world-renowned for the service, accommodation, and attention to detail we provide.
OUR SINGLES TOURS INCLUDE:
Two fully catered, specific invitation, large Socials
Top-class Hotel accommodations in each of our cities
Unlimited Personal Introductions
Complimentary interpreters provided at all Socials
Airport Pickup
Breakfast daily
One hotel area and city orientation tour
24-hour hospitality and guidance from our AFA staff
In-house complimentary interpreting services located in the AFA office
1 month Platinum Membership ($95.00 value)
Our tours are designed to take care of all the little details you are normally concerned with during solo travel - where to eat, where to stay, transportation around the city, meetings, introductions, etc…
You can relax and focus all of your attention on the hundred-plus alluring women you'll meet each night at our singles parties. Our contributions to the excitement will include your daily introductions to these women by our highly trained, professional matchmakers. We pride ourselves on dedication to our clients and ensuring you have the best possible matchmaking singles vacation!
You simply couldn't put together a more affordable, action-packed Chinese vacation on your own. And you would never have the opportunity to meet the hundreds of amazing Chinese women attending our socials on your own.
Sign up for free now.
Is there any real reason you would keep these Chinese women waiting?
We have over 500 video testimonials from guys who refused to wait.
Here are some written testimonials from guys who refused to wait
Regardless if it works out with the girl I am seeing, I will never date in America again. I just did not realize the differences in the way women were from one culture to the next. To actually meet beautiful women who are so nice, caring, and sincere, it was refreshing to meet women who are actually looking for real love, not just a penis with a wallet. And the best thing is they are much more beautiful and younger than the women I meet in America. I only wish I had discovered this 20 years ago.
Robert
"By Far One Of The Top Highlights Of My Life! I can't sing your praises enough! The skillful facilitation of such an event by you and your amazing, extraordinary and warm staff was second to none. I was extremely impressed with how flawless things flowed from beginning to end. The patients that you and your staff exhibited was superb, truly a comfort to the group of men that I accompanied on the tour.
Just a quick note to thank you for convincing me to go on the tour. I was so skeptical, even after I arrived. But after just 15 minutes in the first social I had several hot girls approach me. It was over whelming. I just never imagined that this quality of women would be interested in me. I met the girl of my dreams she is so beautiful. This was a life changing experience. These women are sincere, no games, they are intelligent, elegant women. Brains and beauty, what a combination!
Dan