A LITTLE ABOUT RIGA
Riga is only one hour fight from Stockholm or Helsinki and 2 hours fight from London or Frankfurt. It is right on Baltic coast in the middle of Baltic States countries, in the North of Poland and in the South of Finland.
| | |
| --- | --- |
| | The beautiful Old Town, Riga is less than a mile squire. All the streets are made of cobblestones and very narrow. The entire Old Town is just like one giant maze. You can go everywhere on foot. The majority of buildings are stone built, reflecting the wealth of the medieval city. |
| | |
| --- | --- |
| The Old Town has conserved many of these buildings with their narrow façades, such as the fifteenth century "House of the Three Brothers." There are several medieval churches in the old city. The cathedral, begun in 1211, was subject to numerous additions and renovations in the late Middle Ages and the modern era, which explains the mix of Roman, Gothic, Mannerist, Baroque, Classical and Neolithic elements to be seen in it today. Another medieval church, dedicated to Saint Peter, was badly damaged during World War II but its remarkable spire still marks the city's skyline. | |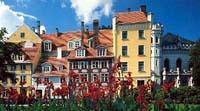 The Old Town may be historically old but there are a whole lot of trendy restaurants, boutiques, night clubs, and designer coffee shops. Accommodations in Riga are superb as well. You don't have to give up any of your luxury tastes, if you can afford them.
Once you exit from the Old Town, you notice the signs of distraction and poverty of the former Soviet Union era. Latvia is poor.
History of Latvia
In 1201 AD, German crusaders conquered Latvia and Riga was founded. In 1629, Sweden conquered Latvia and Riga became the biggest city in the Sweden's kingdom. From 1921 to 1940, after under a few countries' occupation, Latvia became independent for a short period but in 1944, Soviets occupied Latvia again and started deportation of Latvians during and after WWII. Latvia lost 35% of its population to war, deportation, exile, and mass murder.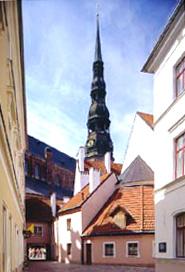 The Facts
Language: Latvian, Russian, English and some German
Population: 2.5 mil.;52% Latvian, 34% Russian, Byelorussians, Ukrainians, Lithuanian and Polish.
Riga Population: 890,000
1. History of Riga
2. Map of Riga
3. More facts about Riga

US

Please call Riga office now, due to a private tour.
171 Pier Ave. #259
Santa Monica, CA 90405
USA




Latvia

Tel: (country code 371) 721-2669
Cel: (country code 371) 950-5658
Vecpilsetas 3 Suite #2, Riga
Latvia